New National Poll: Americans Want Choice, More Control Over Video Content – Including Sports
Sep 7, 2023
Americans want more choice and more control over their video content according to a national survey of 800 registered voters conducted by Public Opinion Strategies and David Binder Research in August 2023. An overview of the poll's key findings and methodology are below. The key findings slide deck is available here.
Costs are far and away the most important factor in Americans' decisions to subscribe to video content.
Over nine in ten (92%) Americans say the cost of a video subscription is important in their decision to subscribe followed by the shows and movies available (46%) and the availability of ad-free content (42%).
When rated individually, two in three (68%) adults say costs are "very important" compared to 24% of adults who say the same regarding what sports programming or teams' games are available through the service.
Americans overwhelmingly want more choice when it comes to high-priced news, sports, or movie channels.
Nearly eight in ten (78%) Americans – including 78% of sports watchers – prefer an approach to cable subscriptions that includes a choice to opt out of expensive specialty channels entirely over an approach that includes packages of expensive specialty channels within all channel bundles.
This sentiment is strongly felt even among those who watch ESPN – 76% would prefer the choice to opt out of specialty channels.
Channels that show live sports are no exception when it comes to viewers' desire for more choice when it comes to expensive programming.
Americans' preference for more choice regarding the inclusion of high-priced channels in the basic cable bundle holds and increases with arguments from each side specifically around sports channels – fully 82% say subscribers should not be forced to pay for sports content they are not interested in vs. 17% that prefer live sports channels be included in the basic channels that everyone pays for.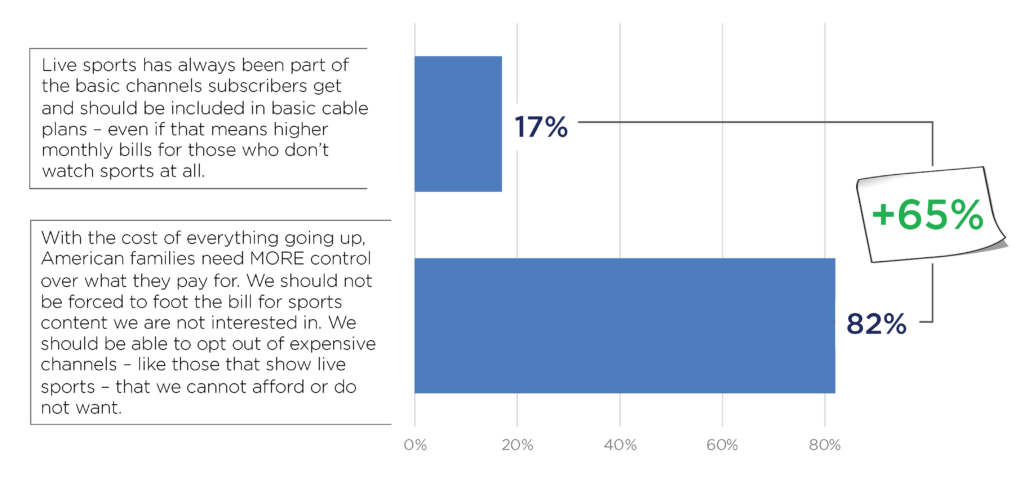 An overwhelming bipartisan majority of Americans prefer more choice in their programming, including 80% of Republicans, 83% of Independents, and 83% of Democrats. Similar majorities also hold for men (80%) and women (83%) as well as for urban, suburban, and rural households, who all support more choice by 79% or more.
Among ESPN watchers, the preference is slightly narrower, but an overwhelming 68% of ESPN watchers still prefer the flexibility in choosing their programming; 31% prefer sports content be included for all.
The position that cable companies must pay a fee for customers who choose not to buy ESPN is extremely unpopular.
86% of Americans oppose the position that cable companies must pay a fee for customers who choose not to buy ESPN, with 66% strongly opposed.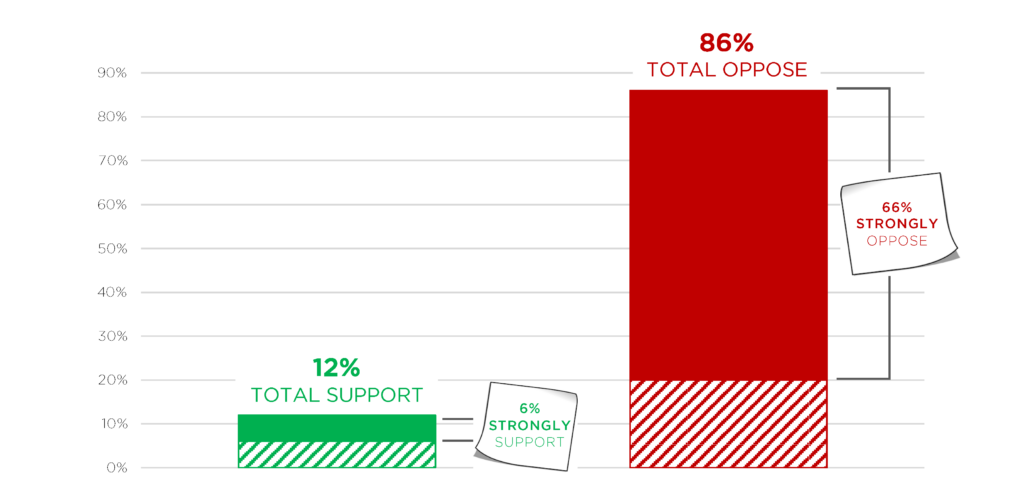 If given the choice, fully 65% of adults would not pay for the ESPN channels separately.
ESPN's "Going Dark" negotiation tactic could backfire, even with avid sports and ESPN viewers.
ESPN's negotiation tactic of going dark if they don't get their way draws 59% opposition saying they would have a "less favorable" view of ESPN if they were to follow through. This negative blowback from their position includes higher shares of ESPN subscribers (72% less favorable view of ESPN) and ESPN watchers (73% less favorable view of ESPN).
After hearing about ESPN's position and potential action, nearly 3 in 4 (74%) adults say ESPN has "too much control over sports programming."
Methodology
Public Opinion Strategies and David Binder Research conducted a national mixed mode online survey of N=800 American adults August 28-31, 2023. The margin of error for a sample size of N=800 is +3.46%.